Tragedy-Friend #2: 
Samson Wrote 

Each month, we point a little spotlight on one of our inspiring community members that we think you'd love to learn a bit about. For February, our Tragedy-Friend is the incomparable Sam Boer (also known as Samson Wrote):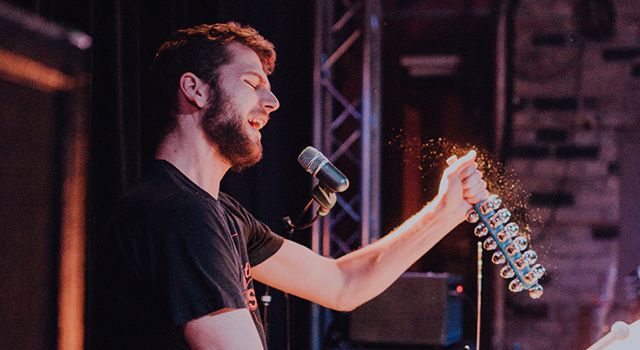 (photo by Alex Lam - he's really good) 
I (Braden, here) have known Sam since the 7th grade (that's half of our lives!), and it's an unbelievable privilege to create, learn, and laugh with him. Sam was present for my very awkward first steps as a singer & songwriter, and informs my music to this day. Here's a brief list of terrific things that Sam does: 
Sam is a phenomenal listener. This skill of his is on full display in every episode of his podcast Lyrically Speaking. 
Sam is a member of The Lifers, bringing a driving urgency and gentle touch to our rhythm section. He also provided the percussion on the Tragedy Ann album Matches! 
Sam can play two recorders at the same time. 

Sam is always the first one to have the kettle on for tea. 

Sam shoots really great video (including one of yours truly). 

Sam is a literary yet accessible songwriter. He balances cerebral and emotional lyricism paired with intuitive melody in a way that inspires and moves us.

 
Sam is releasing a full-length album titled Pigeon (album artwork above by Anita Cazzola) in February, and we think that you're going to love it. It involves the work of some of our very favourite people (and no doubt future Tragedy-Friends!), and is delightfully delivered. Pigeon is going to be released with the help of the string quintet that was featured on the album, and the release concerts are being held in absolutely stunning venues. 
Feb 22 - Toronto 
Feb 23 - Guelph