Tragedy-Friend #19: 
Sophia Perlman 
We are blessed to have peers who do vital and exciting work. Every month we take a moment to spread the good word about them and what they do, and for September, we're singing the praises of the sagacious Sophia Perlman.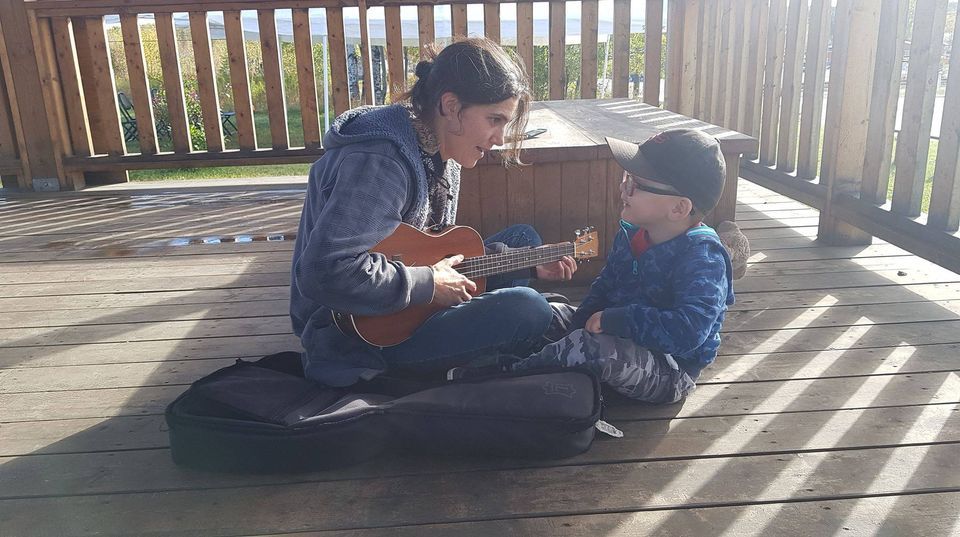 (teaching & learning in Hornepayne, ON // photo by the Hornepayne Public Library) 
Once upon a time, Liv & I were hired as two thirds of the house band for a theatrical production called "The Tale of a Town", where we were tasked with scoring pre-recorded interviews and providing sonic contributions ranging from aircraft imitation to Corin Raymond covers. Through it all, Sophia was our fearless captain and bandleader. She coached us through all the intensity that comes with preparing that kind of show, and she became our older band-sister in no time at all. 
In addition to work in theatre, Sophia is a phenomenal singer, educator, arts facilitator, and now, revolutionary. Sophia departs for Hornepayne, Ontario this Friday, and she's hoping to have 100 ukuleles in the car with her (better that than tambourines) to start a ukulele revolution! 
Over the past couple years, she has made connections with folks in Hornepayne and has developed the Hornepayne Community Arts Project with the intention of fostering arts education and creativity in this often isolated community. We're spreading the word in case readers have a uke to donate, or could spare a couple bucks to help bring music education to some kids who could really use it. She's been able to score a bulk price of $36/uke, and you can e-transfer a donation to her at sophia.perlman@gmail.com if you have the means.