Tragedy-Friend #7: 
Emma Jane 
July's Tragedy-Friend is the effervescent Emma Jane: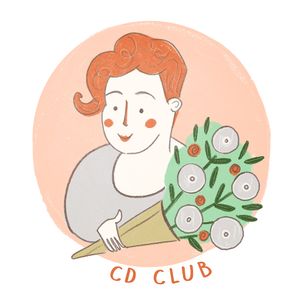 Emma Jane wears many hats within the folk community, and does it with a style, dedication, and innovation that a huge network of artists are thankful for. We first met Emma at the Folk Music Ontario Conference where she runs a showcase room called The Campsite, which, for the record, is the coolest, vibe-iest, coziest showcase room around. Emma has been involved with numerous artists in various roles (Mike T. Kerr, Corin Raymond, Peter Katz, etc.) and currently works for Re Sound, a company that tracks down and collects wayward performance royalties for artists. 
We love Emma very much, and are SO excited about her latest endeavour: CD Club. The idea here is for folks to subscribe to the club and receive a monthly mystery-CD (curated by Emma) in the mail. By subscribing (we've subscribed, and purchased two other subscriptions as gifts) you're participating in the ongoing support for a community of independent singer-songwriters at a time when recorded music sales have never been lower. In being featured in CD Club, an artist can make enough upfront money to hopefully cover some of the considerable manufacturing costs, while being introduced to a brand new audience of engaged listeners. 
Folks like Emma are essential to making this whole music thing work, and we consider ourselves lucky to call her our Tragedy-Friend.